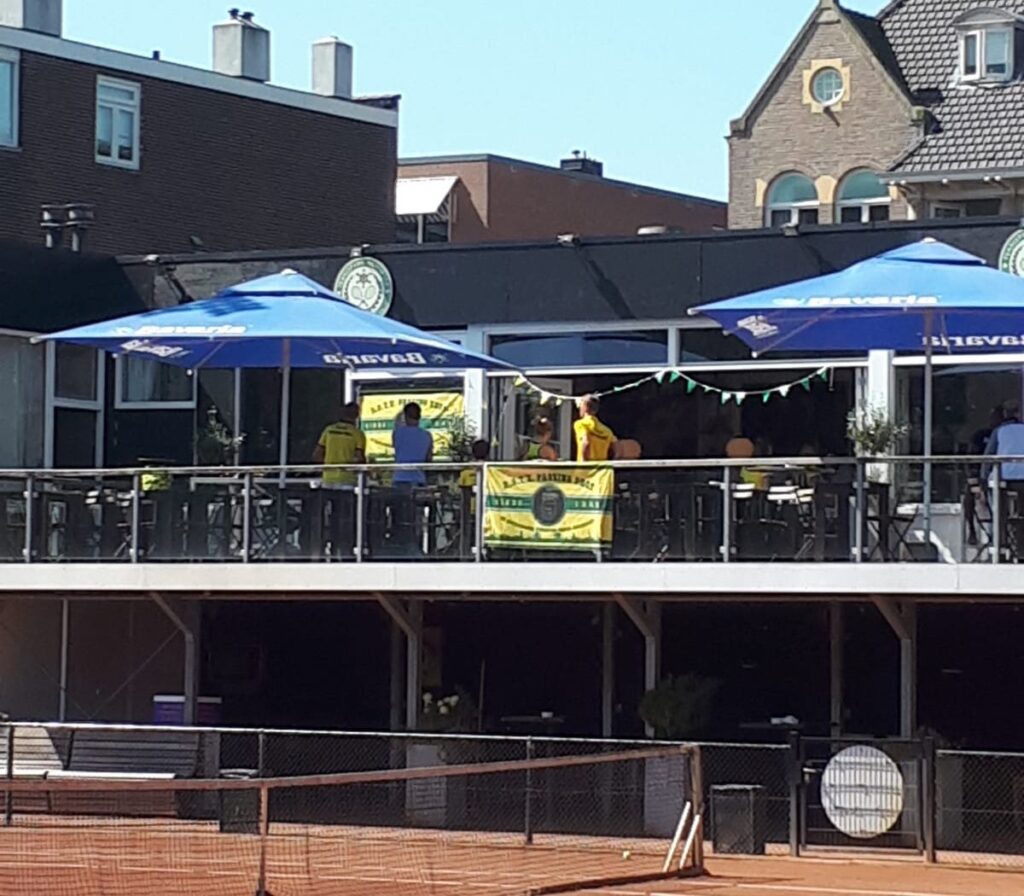 Tennis Park Kralingen has been the permanent tennis location in the summer for Passing Shot for years now. Both the spring and autumn competitions are held on the courts in Kralingen, and almost all club afternoons, evenings, activities and tournaments from April to October are held at this tennis park.
The sports complex in Kralingen was founded in 1879 as the skating club IJsclub Kralingen. A large meadow is flooded every year with water from the Kralingse Plas, so that you can skate there. In 1904, tennis courts were built next to the skating rinks for the first time in order to continue to generate income in the summer. Nevertheless, the sport of skating remains prominent at the IJsclub; in 1947 even the Dutch Championships Skating at the Ice Club is organized. In 1982, however, it was decided to build a new complex with sixteen clay courts and four squash courts. In winter, the courts are still flooded to honor the skating tradition, but tennis is gradually becoming more dominant on the sports complex. Because the skating activities have been loss-making for years, it was decided in 1993 to close the skating rink; from that moment on, there will only be tennis and squash at the Ice Club. In 2008, the land of the IJsclub was bought by Fortis ASR with the intention of building houses, as a result of a planned change in the zoning plan by the municipal district. Ice club Kralingen seems to disappear for good. But neighborhood association BLIJ takes action on behalf of local residents and other sympathizers of the rich tradition of the IJsclub, and sets up the Stichting Behoud de IJsclub. The foundation convinces the sub-municipality that it is possible to provide healthy financial exploitation at the tennis park. The municipality agrees and decides not to change the zoning plan. In 2012, Tony Khan of Sportswise from Tennis Park het Centrum was attracted to lease the land and to exploit the tennis park. He thoroughly remodels the canteen, gets to work on the jobs, and brings ambition and enthusiasm back to the field. The traditional 'IJsclub Kralingen' is being replaced by a more accurate and fresher 'Tennispark Kralingen', but connoisseurs will continue to call it the Ice Club for a while.
Various associations and groups currently play tennis at Tennis Park Kralingen, including LTC Kralingen, senior tennis association NRV, and of course student tennis association Passing Shot. In addition, local tennis enthusiasts can be found every day who rent a court in their own name and hit a ball. Focus Tennis Academy and the KNLTB both provide high-level training on one of the few remaining clay courts in the region. Since 2014, an official open tournament has been organized by Passing Shot and LTC Kralingen: Kralingen Open.